You'll have previously seen my review of Proporta's superb USB Mobile Device Charger,
an accessory which seems to have pleased everyone - it's even won
awards! In short, it was the complete mobile power solution, with
enough juice to recharge a power hungry Nokia N95 at least twice.
(Please read this review first, it will give you a good idea of all the
typical ways to use this genre of product.)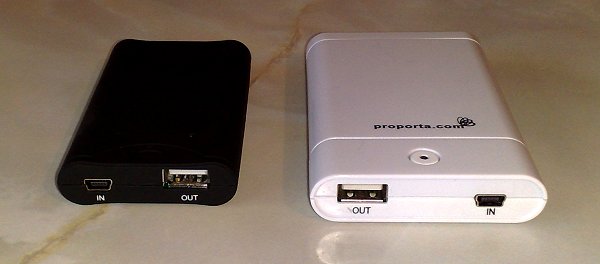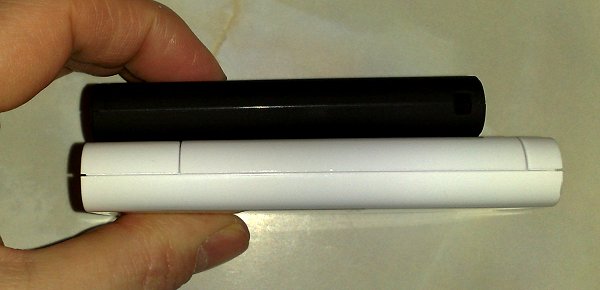 Well....
this is its kid brother, the Mobile Survival Kit Micro. This time
round, I wasn't sent the full International power and car adaptor kits
as well, but these can be bought separately from the Proporta web site
if needed. In the box is the MSK Micro itself, a discreet and slimline
iPod-sized unit finished in matt black rubberised plastic. The case
seemed a little more fragile than the larger white original, possibly
due to the slightly concave top and bottom surfaces.
The main
functional differences between the two chargers are that the MSK Micro
has half the capacity, at 1700mAh (compared to 3400mAh), the obvious
trade off for size and weight, and that there's now a Knight
Rider-style animated LED curve that lights up when charging and when
giving charge. In the latter case, the number of LEDs lit (out of 5)
show how much charge is left in the device.
So to testing. As
with its bigger sibling, you simply plug the MSK Micro into any USB
port on a desktop or laptop and it charges over the course of 3 or 4
hours. It's not a fast charge, but then the idea is that you're not
doing this on a daily basis. It's meant for getting you out of scrapes
and it makes sense to charge it and leave it in your briefcase or
pocket. The charge is held fairly well, but in the MSK Micro's case
there does seem to be some leakage and I'd recommend a weekly top-up.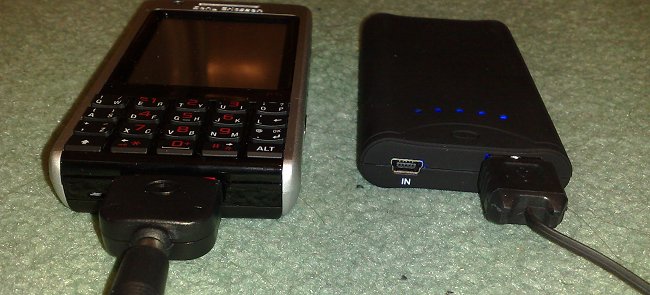 Then,
when a phone needs charging, you just plug in one of the supplied USB
leads and tips, depending on your model of phone. The MSK Micro comes
with new style Nokia and Sony Ericsson charging tips, but you can also
get any one other of your choice from the Proporta web site when you
order - a good and sensible system. As with the original kit, I'd
recommend paying a little extra for the mains and/or 12V USB adapters,
to give you even more ways of recharging the MSK Micro itself.
A
press on the charge button and current starts flowing into your
smartphone, with charge times not too dissimilar to those from a mains
charger. As mentioned earlier, the LEDs indicate the amount of charge
left, although the guage seems a bit quirky and doesn't decrease
perfectly smoothly.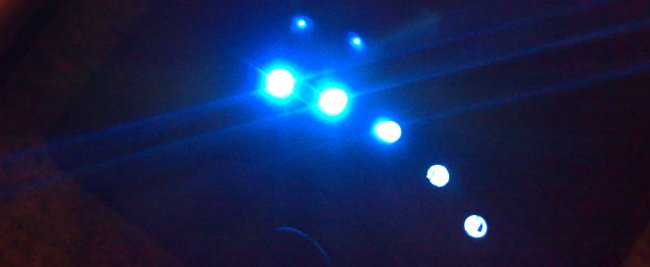 The
1700mAh capacity, as with the original model's 3400mAh, doesn't all
translate into useable charge. The laws of physics come into play and
there are some losses in the electronics which manifest themselves as
heat in the MSK Micro and phone battery, but I'd estimate that you can
easily fully charge a 1200mAh N95 8GB battery with a little to spare.
Or, putting it into further perspective, you could almost fully charge
an E90 from scratch or charge a heavily used N73 roughly twice.
Given
the two accessories, I'd always go for the larger, white 3400mAh model,
for obvious reasons. But for anyone travelling light, or who is
planning to take this type of accessory in their pocket permanently,
the smaller size and lighter weight of the Mobile Survival Kit Micro
will be quite attractive. My only worry would be longevity, with the
MSK Micro not possessing the bulletproof case of the original.
Still, another hit for Proporta and a valuable 'get you home and beyond' accessory.
Steve Litchfield,