The Smartphone vs The Tablet
Perhaps by pure coincidence,
Nokia has recently released two devices with superficially similar
specifications, the Nokia E90 and Nokia N810. They both run
multitasking operating systems, they both have PC-style web browsers,
they both have large bright screens, they both have large built-in
QWERTY keyboards and they both have built-in GPS.
However, this
isn't the most obvious comparison to make, as the N810 is an "internet
tablet" without direct access to the mobile phone network, while the
E90 is a smartphone that can connect to just about anything. They've
been developed by utterly separate units at Nokia, with completely
different design principles, interfaces and operating systems. But that
contrast is what makes the comparison potentially very interesting, and
that's why we're doing these articles.

To start this series,
let's have a very quick look at how they shape up physically, and then
look at their communications abilities in a bit more depth.


Hardware

Physically
the N810 and E90 look like chalk and cheese until you open them up and
then the similarity becomes apparent. Both devices feel very similar to
hold when opened, and you can operate them both in a very similar
two-thumbed way.

The keyboard keys are a fairly similar size.
The N810's keys are perhaps a bit bigger, but the E90 has more keys.
The N810 is more satisfying to type on as the keys are clickier, so you
feel it more when you press something. Comparisons of the d-pads give
similar results, with the N810's being a bit bigger than the E90's
internal d-pad, and with a nicer and deeper click when selecting a
direction.

The devices screens are the same width physically but
the N810's is about a fifth taller. Resolutions are also similar, with
the E90 having 800x352 pixes and the N810 clocking up an even more
impressive 800x480 pixels. Both screens are very clear and bright,
which makes small text highly readable.

The N810's slider feels
solid, it's not loose at all. The E90's fold also feels fairly sold but
is a bit confusing as it isn't easy to position it in half-way mode,
and feels like a 3D puzzle at times.

The N810 has a built-in
stand with a range of positions, and the E90 screen can also stand on
its own thanks to the weight of the keyboard.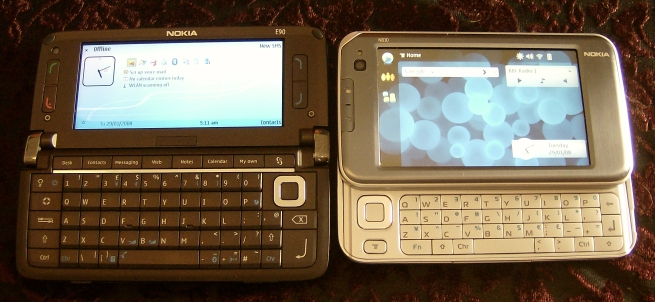 Nokia E90 on the left, Nokia N810 on the right.
Communications

Not
only can the E90 work like a normal mobile phone, if you close it it
even looks exactly like a normal phone, and you hold it just like a
normal phone too. The E90's form factor does an effective job of giving
us the best of both worlds, with its huge screen PDA when unfolded and
its normal-shaped telephone when folded.

However, the N810
wasn't designed as a completely standalone device. It uses the
so-called "two box" model, where you use the tablet for internet
services and perhaps multimedia, while a separate Bluetooth phone lets
you do calls and texts. Like all Nokia's internet tablets, the N810 can
connect to the internet not just through Wi-fi but also through any
phone that supports the Bluetooth DUN profile, so it can be used on the
move just like the E90. Despite its more cumbersome nature, there are
many possible advantages in the two-box method, and these have been discussed at length in an earlier AAS article about Semi-Convergence.


Wi-fi and Bluetooth

The N810 seemed to be much better than the E90 at picking up Wi-fi signals, and consistently found more networks than the E90.


The E90 and N810 can be set to continually search for Wi-fi signals and
connect to them automatically if possible. The N810 can also be set to
automatically connect through your phone through Bluetooth, and it has
a third mode (probably the most useful) where it tries to connect to
Wi-fi if possible, but defaults to connecting through your phone if
it's the only option.

As well as connecting to phones, the N810
can simultaneously also connect to Bluetooth keyboards and headsets.
The E90 can also connect to keyboards and headsets, and has a wider
range of headset profiles including A2DP stereo sound.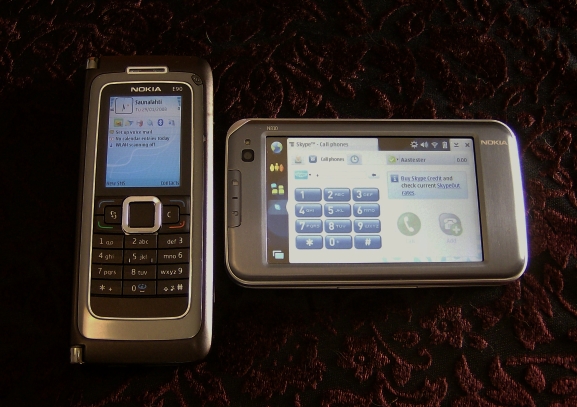 E90 in its "normal phone" mode, N810 on Skype's keypad section.


Internet Telephony

Both the E90 and N810 support VOIP services which allow free internet calls and cheap calls to landlines and mobile phone.

The
E90 requires you to either install a third party VOIP application or
enter the required SIP settings manually, which is quite frankly a real
pain. If your phone network operator offers VOIP you may be able to get
the settings from them automatically, and businesses would certainly
have support staff to set up VOIP.

Although the N810 can use
SIP settings just like the E90, there's a much much easier option which
is doing a far better job of bringing VOIP to the masses: a full, free,
official, easy-to-use Skype client which works on all types of
connections including Wi-fi and phone networks (you can even use it on
slow 2G phone networks if you can bear the lower sound quality).
There's no need to fiddle around with any settings at all, you just
install the Skype client, enter or register a username and password,
and it works, just like on a PC. As well as providing free
Skype-to-Skype calls, it can effectively turn the tablet into a phone
if you use the optional pay-for SkypeIn and SkypeOut services (SkypeIn
gives the Skype account a real phone number, SkypeOut lets it call real
phone numbers).

The main catch with telephony on the N810 is
that you cannot hold it up to your ear the way you can with the E90,
and tablet users have to make do either with speakerphone mode,
headphones or wireless Bluetooth headset. The sound quality is fine in
all these modes, but it's awkward to use on the move and the tablet's
telephony features are probably best appreciated at home. The E90 is
far more comfortable for voice calls when you're out and about.
Another
snag with Skype (or any other VOIP service) is that you may have to pay
data charges if you use it through a phone connection. As always if
you're not sure, check with your phone network to find out what your
data charges are before you do anything internet-related on your phone.
There's
no technical reason why the E90 couldn't have Skype too, and some
rather complicated workarounds have been devised to achieve this, but
for some reason Skype seems reluctant to issue an official client for
Symbian-based phones. Technical problems were cited by Skype a year
ago, but it seems unlikely that these alone would have delayed it for
so long while other VOIP operators released Symbian clients with no
problems.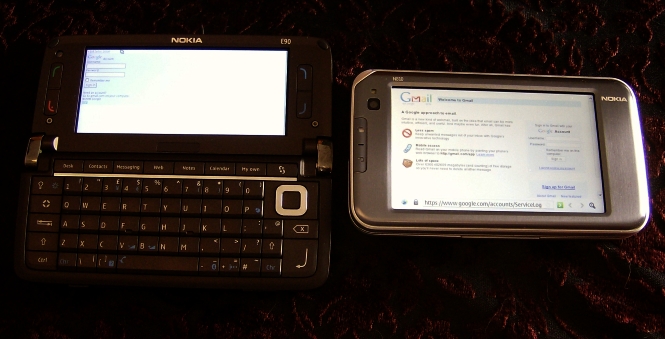 This
is what you see if you visit gmail.com on the E90 and N810. The E90 is
disappointingly auto-forwarded to the mobile version, while the N810
gets the full PC version.

Email

Both
the E90 and N810 have simple straightforward built-in email clients
that support attachments and downloading of email for offline reading,
and there are more sophisticated third party email clients if you don't
like the built-in one.

However, the E90 has a massive advantage
when it comes to corporate email, as this is one of the features that
defines the entire Communicator series. As well as the usual IMAP4 and
POP3 accounts, the E90 is compatible with Blackberry Connect, Good
Mobile Messaging, Intellisync v8.0, Mail for Exchange v1.5 and Seven
Mobile Mail. By comparison, the N810 isn't a business device, and its
mail client can only manage IMAP4 and POP3.

The devices can
also both use webmail through their browsers, though the N810's browser
and slightly larger screen and touch interface are probably more suited
to this. The N810 can also use services such as Gmail in their full
versions, whereas the E90's S60 browser tends to get automatically
redirected to the mobile version of Gmail.
[Note
though that the E90 is quite happy with Google's GMail mobile client,
providing an arguably better experience than the webmail version - Ed]

Instant Messaging

As
with all current S60 devices, the E90's built-in IM client is very
basic and (on the SIM-free version) has no built-in settings at all. It
seems to be largely designed for phone network operators' own IM
services, which would come with settings built-in. You'll probably want
to install a third party IM application so that you can use popular
services like MSN, AOL, Yahoo, ICQ, etc, and fortunately there are
plenty of these for the S60 3rd Edition platform, e.g. Agile Messenger,
IM+ etc.
The N810's built-in client, called Chat, is slightly
better as it has built-in settings for Google Talk and Jabber, so you
can just enter your existing username and password to access those
services, or register as a new user. There's a public beta version of
Chat which is compatible with a much wider range of services, so Chat
should be improving in the next firmware update. In the meantime, you
can access AOL, MSN, ICQ, etc. by installing the third party freeware
application Pidgin, which is available as a direct download straight
onto the tablet from the official Maemo web site.
It's
worth emphasising that on both devices the QWERTY keyboards and large
screens make messaging a much more pleasant experience than on
normal-sized phones.
Krisse,